LocknLock wins 'Asia-pacific Outstanding Brand Award 2021'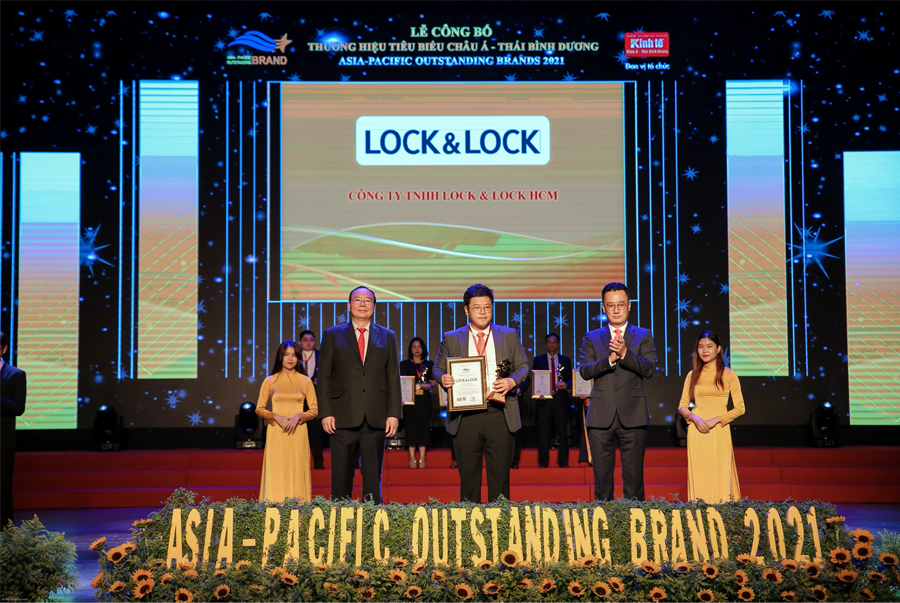 -Recognized for brand power, quality, sustainable growth, contribution to the Vietnamese economy, CSR, etc.

-The only global living goods brand to make it to top 10
The global living goods company LocknLock Co. (RD Sunghoon Kim) announced that it won Asia-Pacific Outstanding Brand Award 2021 in Vietnam. The Award selects the winning brands based on ▲ brand power in the industry, ▲ product and service quality, ▲ sustainable growth strategy, ▲ contribution to the Vietnamese economy and , ▲ CSR among Vietnamese brands and global peers doing business in Vietnam. LocknLock received high score across the five categories and became the only living goods brand to make it to the top 10 among 167 winners.  
In 2008, LocknLock moved into the Vietnamese market and settled down into the market early on with its premium brand strategy. Taking Ho Chi Minh and Hanoi as the main base, LocknLock moved into high-end shopping malls like Vincom Center and Paxon Department Store to position itself as the luxury brand and quickly expanded into smaller cities like Danang, Can Tho and Nha Trang to build on its brand power. The fact that it made its name in TOP 100 Trust and Use Products and Services in Vietnam for nine years in a row including in 2020 is a testament to its outstanding brand power in the country. Having a local production plant that supplies high-quality products on time also contributed to winning the Award. Unlike other multinational companies in Vietnam, LocknLock goes beyond simply selling products to providing high-quality service, which obviously won the hearts of consumers.
LocknLock moved into the growing online market ahead of others making its way into Lazada in 2016 followed by Tiki and Shopee, which are Vietnam's top three e-commerce channels. Online sales have been going up year by year with an annual average of 117% from 2016 to 2020. Its active penetration into new digital platforms like social commerce and live commerce is also helping the company to quickly keep pace with the changing consumer trend in Vietnam.
Its contribution to the local Vietnamese economy and the community also earned high reputation. From the early days, LocknLock made huge investment in the country to build its global production base in Vietnam. Accordingly, it build plastic extraction plant in Vung Tau in 2019, heat-resistant glass plant and cookware plant in 2011 and 2012. By producing products exported around the world, LocknLock is helping the local Vietnamese economy and part of the sales revenues are set aside to build orphanages, senior centers, schools and support scholarship programs as part of CSR.
VP Haewoo Chon of LocknLock Southeast Asia Marketing HQ said high-quality products, efforts to quickly capture changing consumer trends and sharing with the local community made LocknLock a trusted brand among Vietnamese consumers. "We will broaden our horizon to nearby markets like Thailand and Indonesia to further solidify our status as the leading lifestyle company in Asia" said Chon.
Asia-Pacific Outstanding Brand Award is organized by Asia Pacific Economy Review, which is Vietnam's major business magazine established in 1993. 2020 marks the 7th year since the Award has been given. Award winners are selected among Vietnamese brands and global brands in Vietnam based on brand power, quality and contribution to the economy, etc.