"Food containers wear a new look"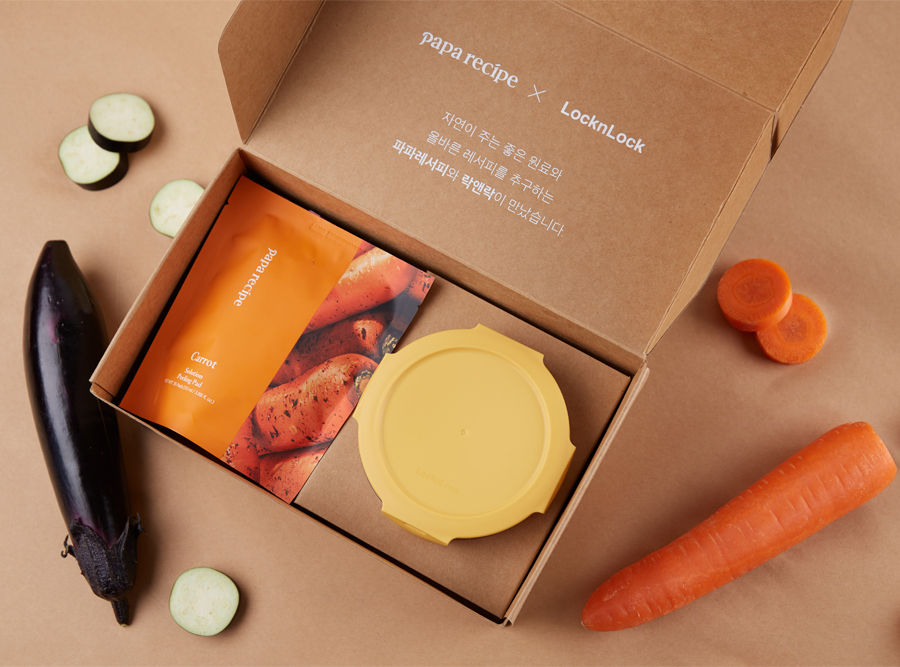 -3,000 limited sets of LocknLock anti-bacterial bisfree containers and two types of Papa Recipe peeling pad

-Unique collaboration between food container and cosmetics…encourages reuse of cosmetic containers
The global living goods company LocknLock Co. (RD Sunghoon Kim) unveiled a unique limited collaboration with the green skin care brand Papa Recipe in a bid to encourage recycling of cosmetic containers. 'Refill starter set', which LocknLock collaborated with Papa Recipe, is composed of LocknLock anti-bacterial bisfree containers and Papa Recipe's bestselling peeling pad(refill). The intention is to promote the versatile use of food containers and refill culture.  
LocknLock's bisfree, which is reusable containers used for collaboration, renewed its design in 2019 and captured attention as an interior item beyond mere food containers. For collaboration with Papa Recipe, LocknLock added yellow color, which is the brand symbol, on the cover to create a more special design coupled with 370ml round shape for a unique interior decoration on vanity.
Bisfree is a good choice for containing cosmetics thanks to the anti-bacterial silicon packing and airtightness while the use of triton free of bisphenol A(BPA) makes it suitable for reuse since it is safe without leaving coloring or smell. Hygienic maintenance is also possible by sterilizing in hot water. The peeling pad in the set can be refilled or used to keep accessories or other goods.
Pad comes in two types i.e. 'eggplant clearing peeling pad', which is one of Papa Recipe's best selling item, and 'carrot solution peeling pad'. It is an eco-friendly refill item(35) as the collaboration is intended with two sets for each pad. Each pad comes with two eco-friendly refill products(35). Papa Recipe pad uses natural extracts and is made with vegan-certified pure cotton sheet, which appeals to consumers who care about the environment and skin.
Team Leader Pilhee Kwon of LocknLock Product Strategy Team said collaboration is intended to encourage use of reusable containers and renew awareness on resource cycling. "Unique collaboration between food container and cosmetics comes across as fresh among consumers and encourages people to practice 'meaning out'."
'Refill starter set' collaborated between LocknLock and Papa Recipe can be purchased in Papa Recipe's official online shopping mall. LocknLock will sell limited 3,000 sets at 40% discounted price to promote reuse of cosmetic containers in official Instagram and Facebook until May 20th and give '10 refill starter sets' through lucky draw.