LocknLock launches 'Drink together water bottle' for owner and companion dog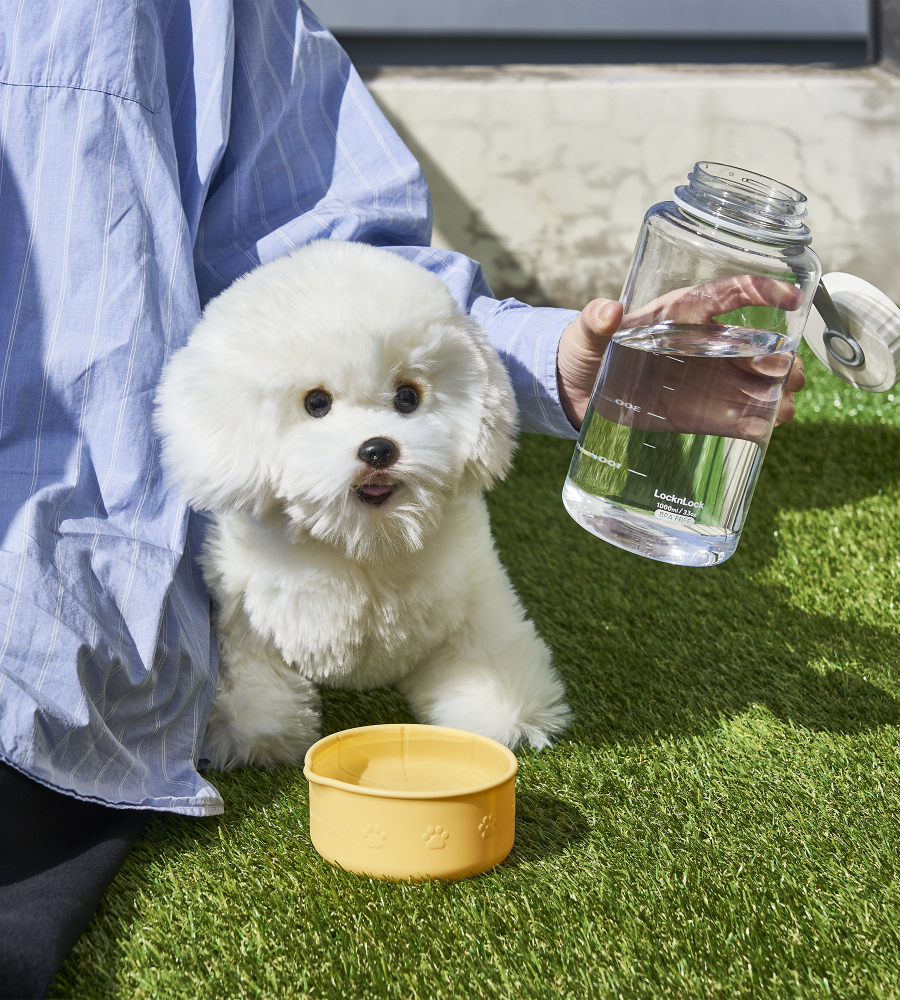 -Water bottle(1L) and silicon plate(300ml) for companion dog … good choice when walking or traveling with companion dog
The global living goods company LocknLock Co. (RD Sunghoon Kim) launched 'Drink together water bottle' shared by owner and companion dog. It is a useful item when walking or traveling with companion dog as it satisfies needs of both owner and companion dog. The item is composed of water bottle and silicon plate for the dog, which is a portable type attached to bottom of the water bottle.
1L water bottle contains enough amount of water needed for 30 ~ 60 min. walk with the dog. Triton used to make baby bottles makes it light and durable. It is also convenient and handy.
Water filter to adjust amount in the entry allows owner to drink water from the narrow side of the filter and companion dog to do so from the wide side.
Owner can check how much he/she or his/her companion is drinking with marking in the water bottle. Bottle and cap are connected with a ring to carry with ease and hang such items as sanitation bag while walking.
Silicon plate for companion dog is in yellow color for easy recognition by dog. It can be sterilized with hot water alongside water bottle to keep in hygienic condition.
9cm width, 4.2cm height and 300mL size is the right size for dogs of all sizes from small ones to big ones and it can also be used as portable dog food plate during traveling. A crack is designed inside the silicon plate to separate it from water bottle.
Team Leader Sangwook Joo of LocknLock Beverage Ware Development Team said 'Drink together water bottle' is a practical choice for both companion dog and owner. "This reflects increasing population raising companion dogs and is a must-have item for those who treat their dogs like a family." said Joo.
LocknLock is holding 'LocknLock Nationwide Companion Dog Contest' in its official SNS until May 15th in sync with the launch. Anyone leaving a reply in LocknLock's official blog and Facebook to share stories about his or her companion dog can join the event and win 'Drink together water bottom' through lucky draw or get 'Beggin Strip Bacon', which is snacks for companion dogs by Nestle Purina.
'Drink together water bottle' can be bought in LocknLock Mall and in open markets including NAVER official smart store, 11th street and G Market.