LocknLock launches 'Light and convenient one cook' series that is lighter than 500mL milk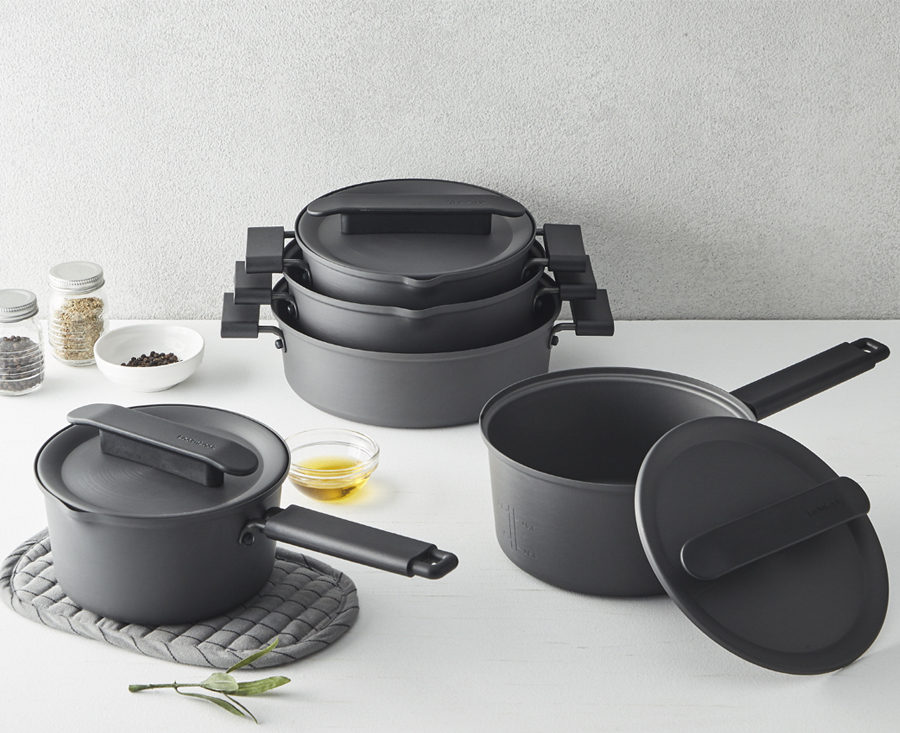 -Lighter than 500mL milk for cooking without pressure on hand wrist

-High heat conductivity reaching boiling point in three minutes, durability and convenient for beginners
The global living goods company LocknLock Co. (RD Sunghoon Kim) launched the ultralight cookware 'Light and convenient one cook' series just right for quick and convenient cooking. The series, which is a useful choice when cooking at home or camping, comes in five items including 16~22cm single-handle, double-handle and stew pot, etc.
Ultralight 499g(18cm double-handle pot) that is lighter than 500mL milk makes it easy to cook with it, move to the table or dish wash without giving too much pressure on hand wrist. High heat conductivity that causes liquid to boil in three minutes cooks food including frozen food, instant food and all sorts including fried and stew recipes faster than delivery food. It is also a good choice for outdoors like camping thanks to lightweight and quick cooking even by those who are not comfortable with cooking.
Marking in the interior helps adjust how much water is precisely needed for cooking. It is also easy to take the water out without cooking utensils thanks to the curved design. The so-called handle safe zone in the cap makes it easy to take out the water with the cap stably fixed. LocknLock's hard anodizing method, which is a special method to harden pot surface, is applied for durability. Thanks to hard anodizing, pot is free of deformation despite frequent cooking and washing. It is also resistant to scratch and external shock and ROHS certification, which is EU's environmental certificate, ensures its safe use.
Team Leader Youngjin Sohn of LocknLock CW(cookware) Development Team said the ultralight cookware suitable for quick and convenient cooking reflects the growing demand for eating at home and highly accessible HRM. "'Light and convenient one cook' series is also highly versatile at both home and outdoors for camping and other activities thanks to its portability" said Sohn.
'Light and convenient one cook' series is in LocknLock Mall, NAVER official smart store, G Market, 11st Street and other open markets. On the occasion of its launch, NAVER smart store is live broadcasting the item for one hour from 13:00 on May 14th. During the live broadcast, consumers can get a 20% discount with additional giveaways depending on number of purchase and certification.