LocknLock tops airtight container and kitchen goods category for 18 years and 5 years in a row in 2021 Korea Brand Power Index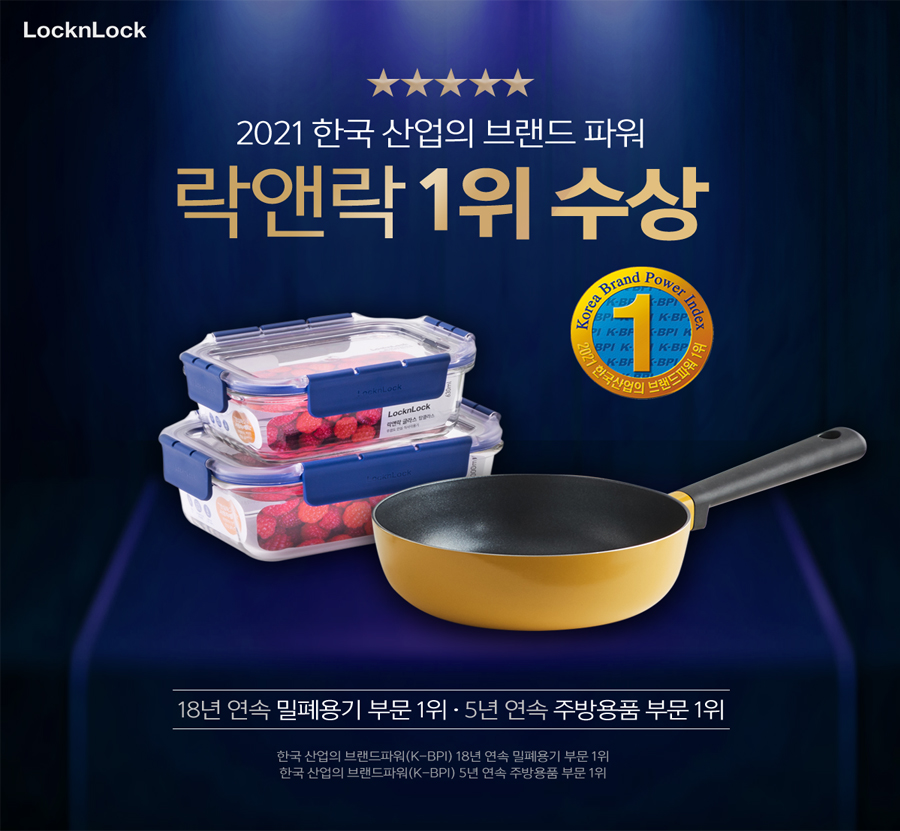 -Outstanding brand competitiveness and market dominance in airtight container category represented by wide gap between 2nd and 3rd ranked players

-Leading cookware brand in kitchen goods category with steady growth in consumer trust
The global living goods company LocknLock Co. (RD Sunghoon Kim) topped 2021 Korea Brand Power Index(K-BPI) organized by Korea Management Association Consultants for 18 years in airtight containers category and for 5 years in kitchen goods category. It once again proves LocknLock's dominating status in the domestic kitchen and living goods industry. In airtight container category, LocknLock easily came on top against 2nd and 3rd placed ZipLoc and GlassLock. Awareness power, an indicator of market leadership, and loyalty power, an indicator of relationship between consumers and brand, both recorded a high score above average of other top-ranked consumer goods brands to show LocknLock's outstanding competitive edge.
LocknLock breathed in innovation to kitchen lifestyle with four-side accretion containers launched in 1998. Since then, the company applied various differentiated technologies such as heat-resistant glass, ceramics, eco-friendly Triton, stainless among other materials, midair silicon, stackable functions and others. It also expanded consumer base by consistently launching products customized to consumers' varying lifestyle needs including one-person household, baby food and outdoor activities. Premium heat-resistant and airtight glass 'Top glass' unveiled last year is capturing attention as it can be used safely in microwave, microwave oven, air fryer and dish washer. The all-in-one lunch box container 'To-go series' is also a popular item among young consumers for its convenience and simple design.
In kitchen goods category, LocknLock outperformed the second and third-ranked Tefal and Happycall to position itself as the leading cookware brand in Korea. In particular, its brand image score went up, an indicator of growing consumer trust. Throughout the 23-year history, LocknLock cookware slowly grew into the leading brand on the back of technology, delicate functions to satisfy users and design that touch the hearts of consumers.
Strict process control, stable product supply enabled by in-house production and quality have all contributed to LocknLock's sharp competitiveness. 'Speed cook' for quick cooking, 'Salon de object', which is the premium cookware applying whole iron cast, the practical 'Hard and light', 'Soma IH series' with enhanced convenience and 'Decore IH series' combining differentiated design and function have all emerged into top brands. 'Decore IH series' that was recently launched is particularly appealing to not only the middle-aged in their 40s and 50s but even MZ generation with its unique design and color that has the retro touch.
Director and Head of LocknLock Marketing Center Kyungwoo Ryu said LocknLock topping the brand power index for five years in a row in both food container and cookware category represents LocknLock's position as a friendly brand as kitchen and living goods company. "We will continue to reach consumers with practical, safe, convenient and good-designed products by trying to understand consumers' lifestyle from the development stage." said Ryu.
Korean industries' brand power is Korea's leading brand evaluation program surveying and quantifying competitiveness of brands by industry since 1999. This year, around 230 brands representing Korea's consumer life across industries were surveyed by 12,000 consumers.